Are you looking to order lilies online and have them conveniently delivered to your doorstep? In this guide, we will easily explore the steps and tips on how to order lilies online. Discover the convenience of browsing through a wide selection of lilies, comparing prices, and finding reputable sellers.
From selecting the perfect lilies to ensuring their safe delivery, we will provide you with the essential information to make your online lily shopping experience a seamless and enjoyable. Let's embark on a journey to bring the beauty and elegance of lilies into your home or special occasion with just a few clicks.
What Are the Steps Involved in Ordering Lilies Online?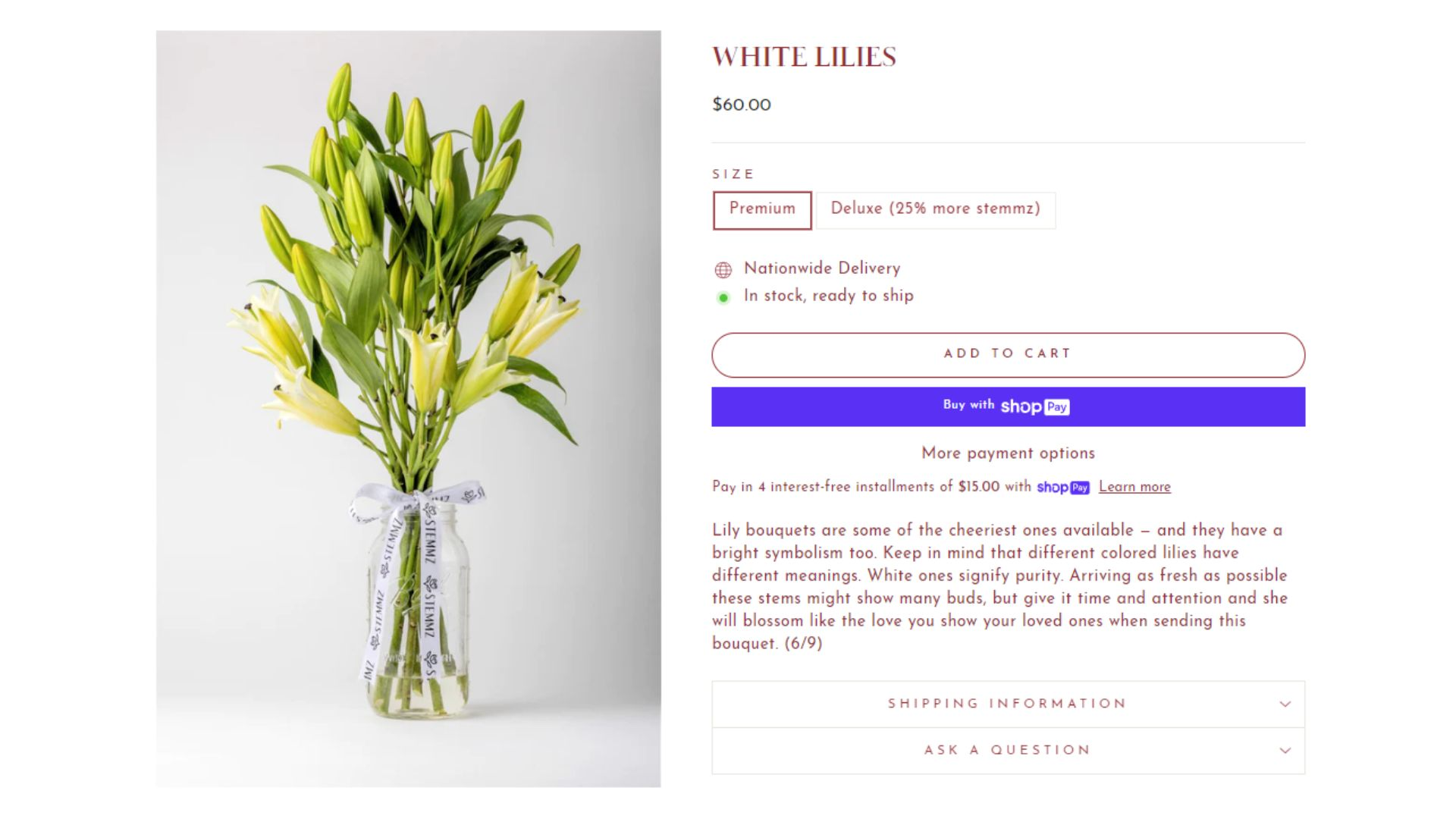 Ordering lilies online is a convenient way to purchase these beautiful flowers. Here are the general steps involved in the process:
Choose a reputable online florist or flower delivery service
Research and select a reliable online platform that specializes in selling flowers, such as lilies. Read reviews and ratings to ensure they have a good reputation for quality and timely delivery.
Browse the options
Once you have chosen a trustworthy online flower vendor to order lilies, explore their website to find the section dedicated to lilies. Look for different types of lilies, colors, and arrangements they offer. Some websites may allow you to filter by specific preferences, such as bouquet size, vase options, or additional gifts.
Select your desired lily arrangement
After finding the lilies you like, click on the specific arrangement or bouquet to view more details. Consider factors such as the number of stems, color combinations, and any additional flowers or foliage included. Review the product description and accompanying images to get a clear idea of what you will receive.
Customize your order (if available)
Some online flower vendors provide options to personalize your lily flower arrangements. This may include selecting a specific vase, adding a personalized message or card, or including additional gifts like chocolates or balloons. Take advantage of these options if you wish to add a personal touch to your order.
Provide recipient and delivery details
Fill out the necessary information regarding the recipient, including their name, address, and contact number. Double-check the accuracy of the details to ensure smooth and accurate delivery. Specify the date and time you want the lilies to be delivered, keeping in mind any special occasions or events.
Review and finalize your order
Before proceeding to payment, carefully review your order summary, including the itemized cost, delivery charges, and any additional fees. Make sure all the details are accurate, including the delivery address and date. If everything looks correct, proceed to the payment stage.
Make the payment
Choose your preferred payment method, such as credit/debit card, PayPal, or any other options provided by the online florist. Follow the instructions and enter the required payment details securely. Verify the payment before confirming the order.
Track your order (if available)
Some online flower vendors offer order tracking services, allowing you to monitor the progress of your delivery. Check if this option is available and take note of any tracking numbers or updates provided. This will help you stay informed about the status of your lily arrangement until it reaches its destination.
Confirmation and delivery
After successfully placing your order, you should receive a confirmation email or receipt summarizing your purchase. Keep this document for reference. Await the delivery of your lilies on the specified date. If you encounter any issues or have questions, contact the customer support of the online vendor for assistance.
Which Online Platforms or Websites Are Reliable for Ordering Lilies?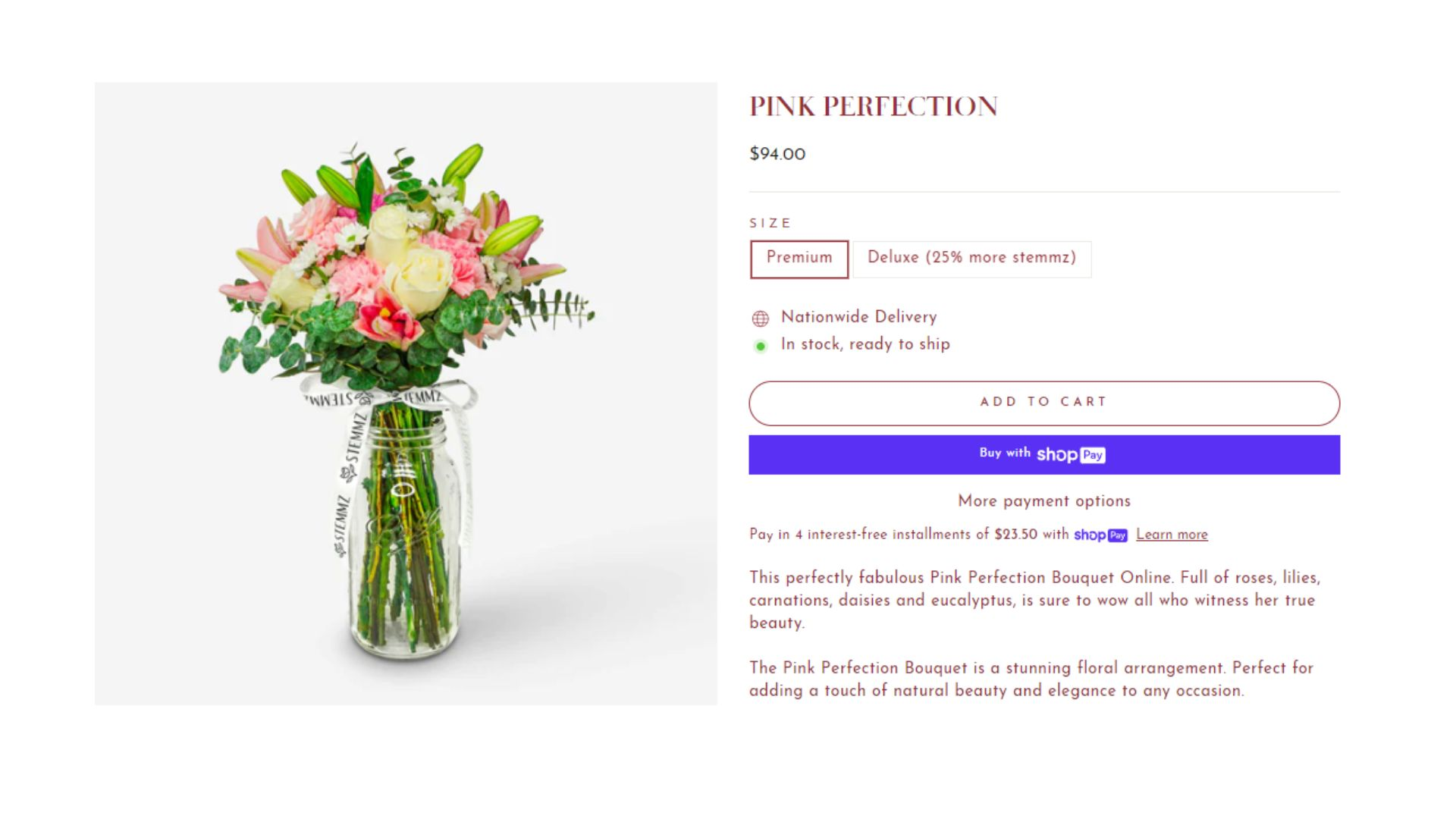 When it comes to ordering lilies online, there are several reliable platforms and websites to consider. One of the best platforms is Stemmz. Known for its high-quality flowers and excellent customer service, Stemmz is a popular choice among flower enthusiasts. With our wide variety of lily arrangements and customizable options, we provide a seamless ordering experience.
Additionally, our user-friendly website allows you to browse different lily options, select your preferred arrangement, customize it to your liking, and provide all the necessary delivery details. Stemmz also offers a tracking service, enabling you to monitor the progress of your order until it reaches its destination.
So, if you're looking to order lilies online, Stemmz is a reliable choice that guarantees fresh and beautiful blooms delivered right to your doorstep.
How Can I Choose the Right Type and Color of Lilies for My Occasion?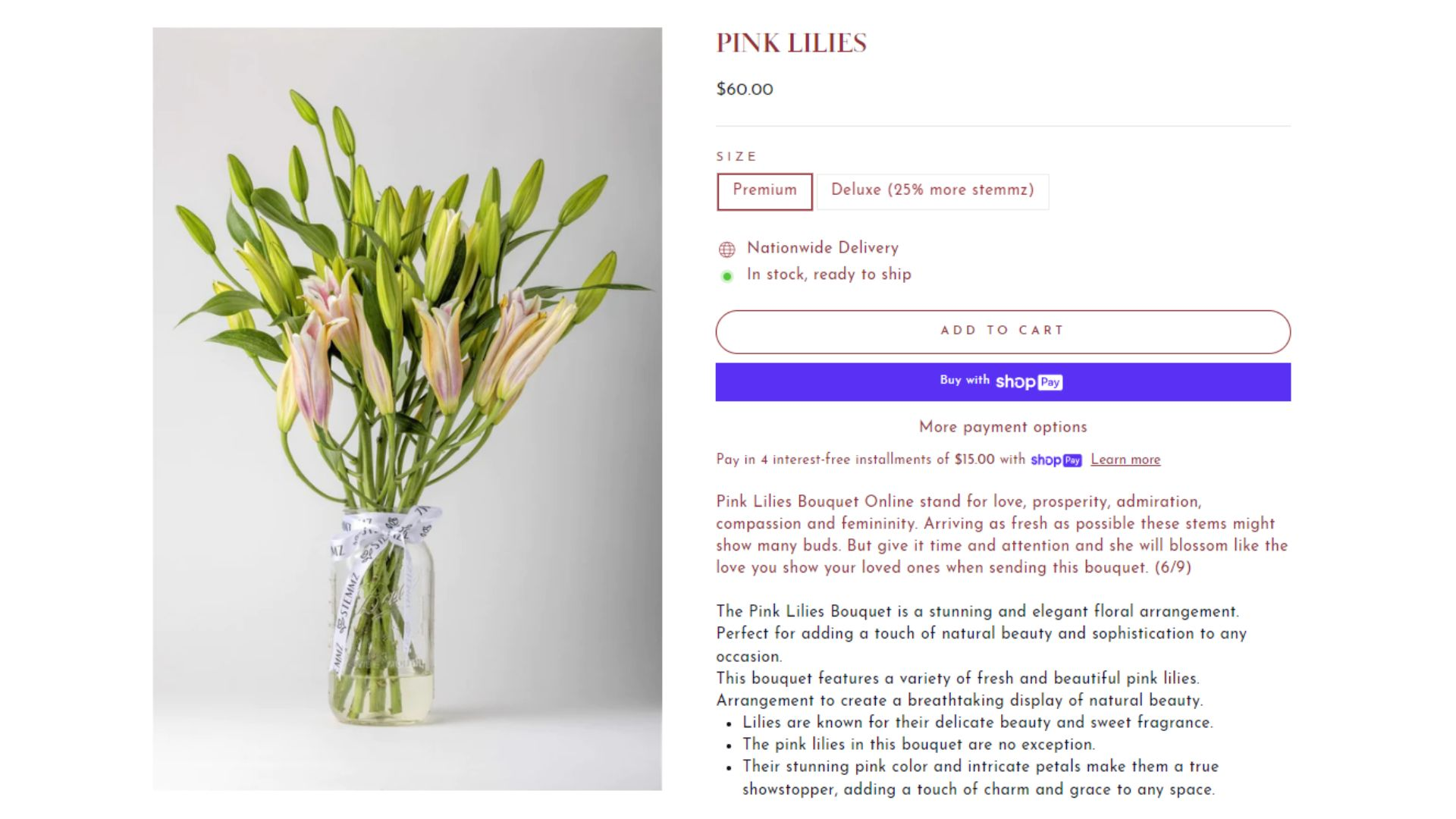 Several factors should be considered to choose the right type and color of lilies for your occasion. First, think about the occasion and the symbolism associated with different lily varieties. For example, white lilies, often used for weddings and religious ceremonies, symbolize purity. On the other hand, pink lilies symbolize admiration, making them suitable for expressing gratitude or affection. Additionally, orange lilies represent passion or enthusiasm, making them vibrant choices for birthdays or celebrations.
Next, consider personal preferences. Reflect on your own taste and the preferences of the recipient, if applicable. Take into account favorite colors and specific flower meanings that hold significance. This personal touch can add sentimental value to the occasion.
Furthermore, think about color coordination. Assess the event's color scheme or the recipient's preferences to ensure the lilies match the overall aesthetic. Determine if you want the lilies to stand out as a bold focal point or blend harmoniously with the surrounding decor. Complementary colors can create an eye-catching contrast, while analogous colors can provide a more cohesive look.
Moreover, check the seasonal availability of different lily varieties and colors. Some lily types may be more readily available during specific times of the year. Choosing options that are in season guarantees freshness and quality.
Consider the meanings associated with different lily colors. Choose the one that aligns with the message or sentiment you want to convey. For instance, yellow lilies symbolize gratitude and joy, making them ideal for expressing appreciation or congratulations.
Lastly, be mindful of any cultural or traditional associations with lilies. Some cultures may attribute specific meanings or superstitions to certain colors or types of lilies. Respect cultural sensitivities when making your selection.
If your looking for wedding flowers or other ceremonies, lilies are perfect for the occasion! Order lilies for delivery with Stemmz today. 
What Factors Should Be Considered When Choosing an Online Retailer for Ordering Lilies?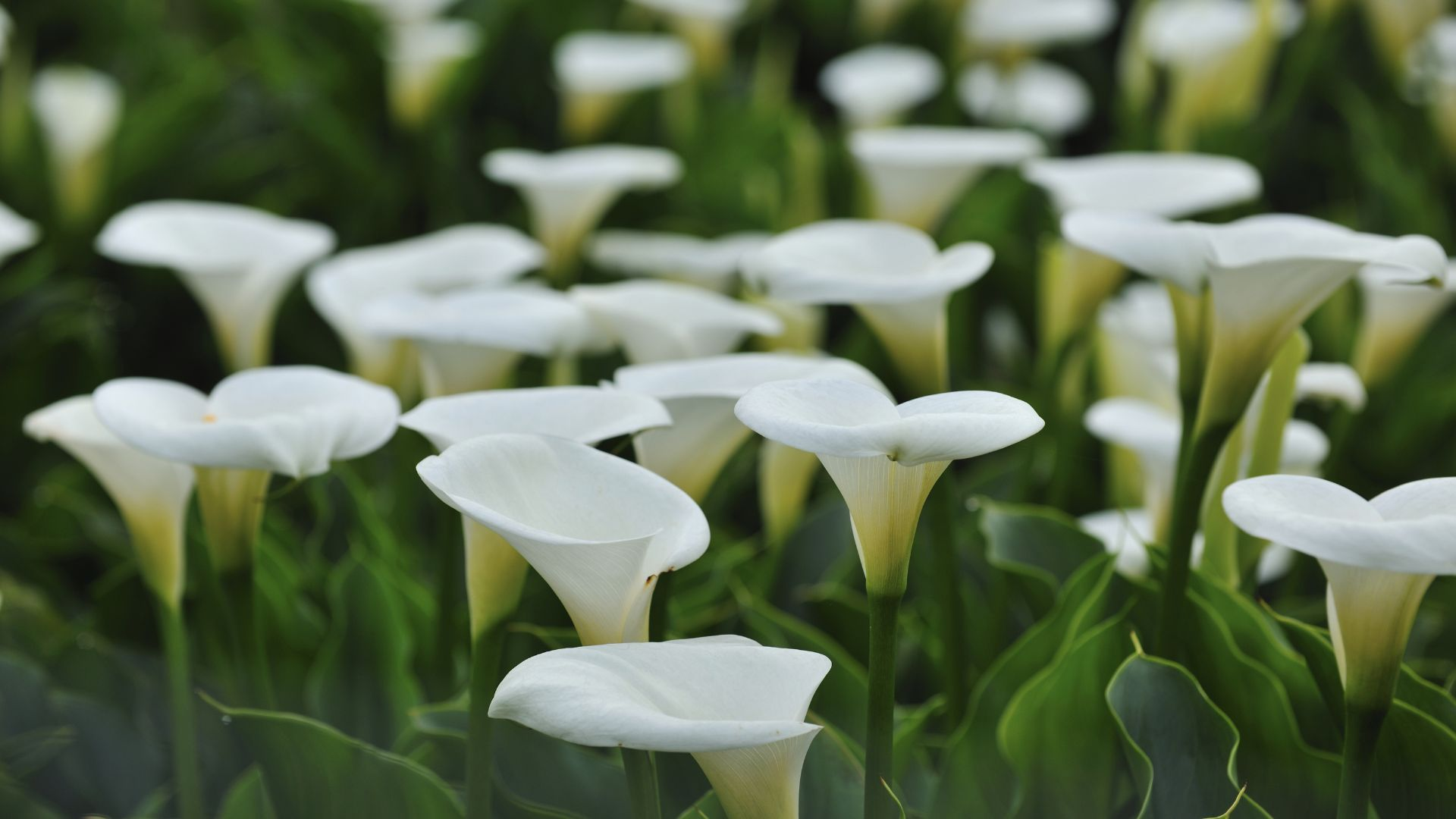 Several factors should be considered when choosing an online retailer to order lilies to ensure a satisfying purchasing experience. Here are the key factors to keep in mind:
Reputation and reviews
Look for online retailers with a good reputation and positive customer reviews. Check reputable review websites or search for feedback from previous customers to gauge the retailer's reliability, quality of products, and customer service.
Selection and quality
Assess the variety of lilies offered by the retailer. A reputable online retailer should provide a wide range of lily types, colors, and arrangements to suit different preferences and occasions. Additionally, prioritize retailers that emphasize the freshness and quality of their flowers.
Delivery options and reliability
Consider the delivery options available and the retailer's track record for reliable and timely deliveries. Ensure they offer convenient delivery methods that suit your needs, whether it's same-day delivery, specific delivery windows, or options for international shipping if required.
Customer support
Check if the online retailer provides accessible and responsive customer support. It's important to have a reliable point of contact in case of any inquiries, issues, or changes to your order. Look for options such as live chat, email support, or a dedicated customer service hotline.
Pricing and value for money: Compare prices among different online retailers to ensure you are getting competitive rates. However, remember that the cheapest option may not always guarantee the best quality. Consider the overall value for money, including the quality of the lilies, additional services offered, and any discounts or promotions available.

Secure payment options: Ensure the online retailer offers secure payment options to protect your financial information. Look for trusted payment gateways or symbols indicating secure connections, such as SSL certificates, during checkout.

Return and refund policies: Familiarize yourself with the retailer's return and refund policies. In case you receive damaged or unsatisfactory lilies, it's essential to know the process for seeking a refund or replacement. A transparent and customer-friendly return policy is a sign of a reliable retailer.

Additional services and extras: Consider any additional services or extras offered by the online retailer. This could include options like personalized messages, gift wrapping, or the inclusion of complementary items like vases, chocolates, or greeting cards. These additional touches can enhance the overall gifting experience.
If you're looking for a reliable and hassle-free lilies delivery service, contact us! 
Types of Lilies: Oriental lilies, Calla lilies, Trumpet lilies, Tiger Lilies, Asiatic Lilies, Daylilies, Easter Lilies and Stargazer Lilies
How Can One Ensure the Quality and Freshness of Lilies When Ordering Them Online?
To ensure the quality and freshness of lilies when ordering them online, there are several steps you can take. Firstly, choose a reputable online retailer that has a proven track record of delivering fresh flowers. Additionally, check if the retailer offers freshness guarantees or assurances, indicating their commitment to customer satisfaction.
Next, consider online retailers that source their lilies from local or domestic growers, as this reduces the time and distance the flowers need to travel, increasing the chances of receiving fresher blooms. Moreover, carefully read the product descriptions provided by the online retailer and pay attention to customer reviews that mention the freshness and longevity of the lilies.
Furthermore, check the delivery options offered by the online retailer. Look for those that provide reliable and efficient shipping services, using appropriate packaging to protect the delicate lilies. Expedited or same-day delivery options can minimize transit time and maintain the freshness of the flowers.
Once your lilies are delivered, promptly unpack them and provide proper care. Trim the stems, remove submerged leaves, and place them in a clean vase filled with fresh water and flower food. This immediate attention ensures the lilies receive proper hydration and nourishment.
If you have any concerns about the quality or freshness of the lilies online, don't hesitate to contact the customer support of the online retailer. They should be able to address your concerns, provide guidance on flower care, and offer a resolution, such as a replacement or a refund if needed.
What Payment Options Are Usually Available for Ordering Lilies Online?
When ordering lilies online, you will typically find several payment options available to ensure convenient transactions. These options may vary depending on the online retailer or platform. Here are some commonly offered methods:
Most online retailers accept major credit and debit cards, including Visa, Mastercard, American Express, and Discover. This widely used payment method allows for quick and secure transactions.
Additionally, many online flower retailers offer PayPal as a payment option. PayPal is a popular online payment platform that allows users to link their bank accounts, credit cards, or PayPal balance to make purchases securely.
Moreover, some online retailers may accept digital wallet payment options such as Apple Pay, Google Pay, or Samsung Pay. These digital wallet services store your payment information and facilitate seamless and secure transactions using compatible devices.
In certain cases, online flower retailers may also offer bank transfers or direct deposits as payment methods. This involves transferring funds directly from your bank account to the retailer's account. However, it's important to note that the method may not be as common as other options and could have longer processing times.
Additionally, depending on the online retailer, you may have the option to use gift cards or vouchers as a form of payment. These can be purchased beforehand or received as a gift, providing a preloaded balance that can be used to pay for lilies or other products.
It's worth noting that payment options' availability may vary among online retailers. Therefore, checking the accepted payment methods during the checkout process or on the retailer's website is advisable. If you want to buy wholesale lilies online, contact us! Order lilies bouquet delivery with Stemmz.
How Are the Packaging and Shipping of Lilies Handled When Ordering Them Online?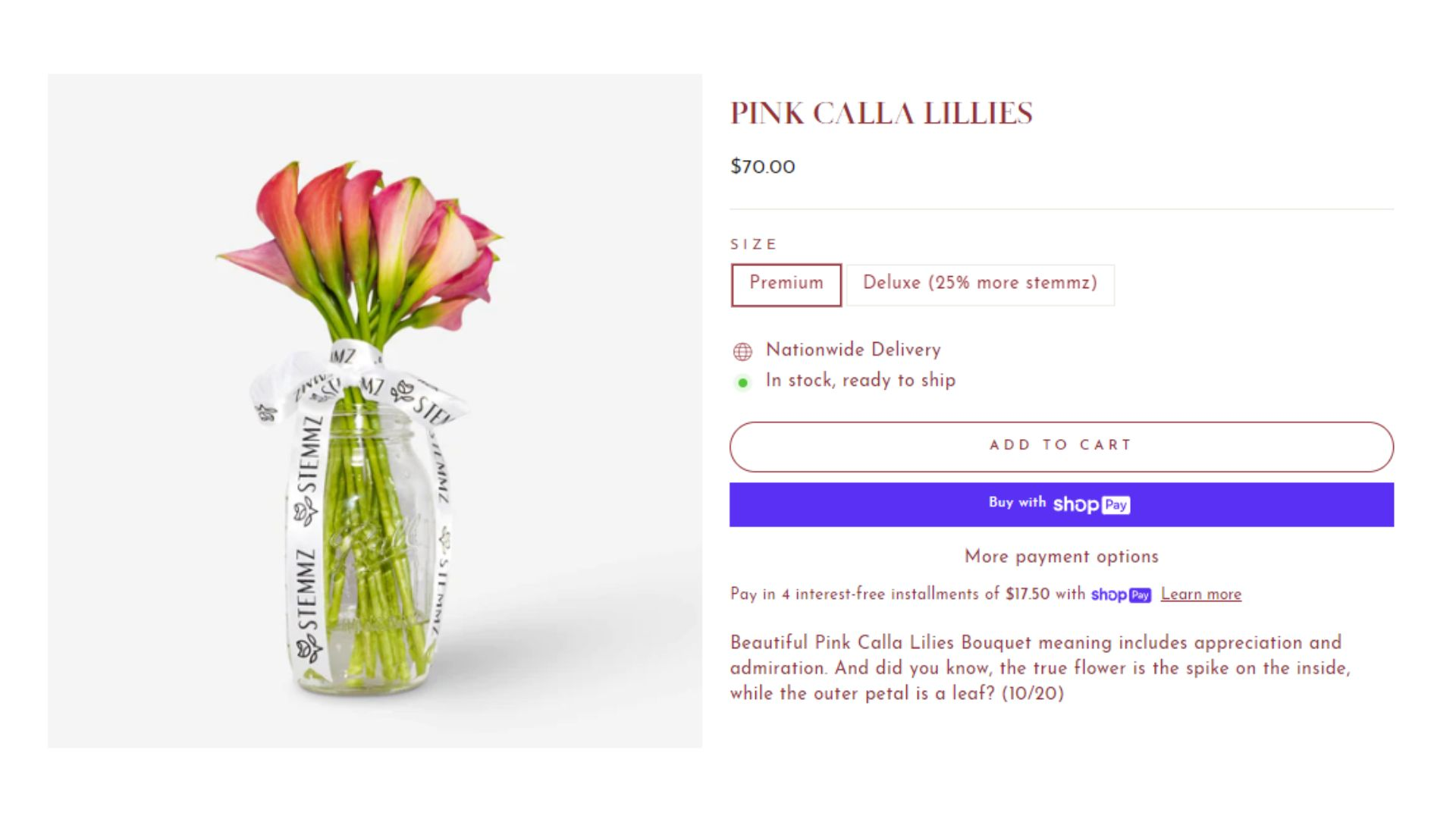 When ordering lilies online, the packaging and shipping process is crucial in ensuring the safe and fresh delivery of the flowers. Here's an overview of how online retailers typically handle the packaging and shipping of lilies:
Firstly, online retailers take special care in packaging lilies to protect them during transit. The flowers are carefully wrapped in protective materials, such as tissue paper or plastic sleeves, to prevent damage or bruising during handling. Additionally, the stems are often secured with rubber bands or floral tubes to maintain their shape and integrity.
To keep the lilies hydrated during shipping, some online retailers provide a small water source at the base of the stems. This ensures that the flowers receive water and remain fresh while in transit. The water source is usually enclosed in a protective covering to prevent leakage.
In terms of packaging materials, online retailers may use additional materials like bubble wrap or foam padding to cushion the lilies and provide insulation against temperature fluctuations. This helps maintain optimal conditions for the flowers and protects them from potential damage.
Shipping Methods
When it comes to shipping methods, online retailers employ various options to ensure prompt and safe delivery of lilies. These options can include standard ground shipping, expedited shipping, or even same-day delivery in some cases. The choice of shipping method depends on factors such as distance, weather conditions, and the desired delivery timeframe.
Many online retailers provide tracking information for shipped orders to keep customers informed. This allows customers to monitor the progress of their lily delivery and know the estimated arrival time. Tracking updates ensure transparency and provide peace of mind to customers.
Additionally, online retailers often include care instructions or beautiful flower care packets with the lily flower shipment. These instructions guide the recipient on properly handling and caring for the lily bouquet upon arrival. They may include steps like trimming the stems, changing the water regularly, and providing suitable environmental conditions to prolong the lilies' freshness.
It's important to note that packaging and shipping practices may vary among different online retailers. Therefore, it is recommended to review the specific details provided by the retailer you choose, as they may have their own unique methods and standards for packaging and shipping lilies. Send lilies online using our hassle-free delivery service! 
How Far in Advance Should I Place an Order for Lilies to Ensure Timely Delivery?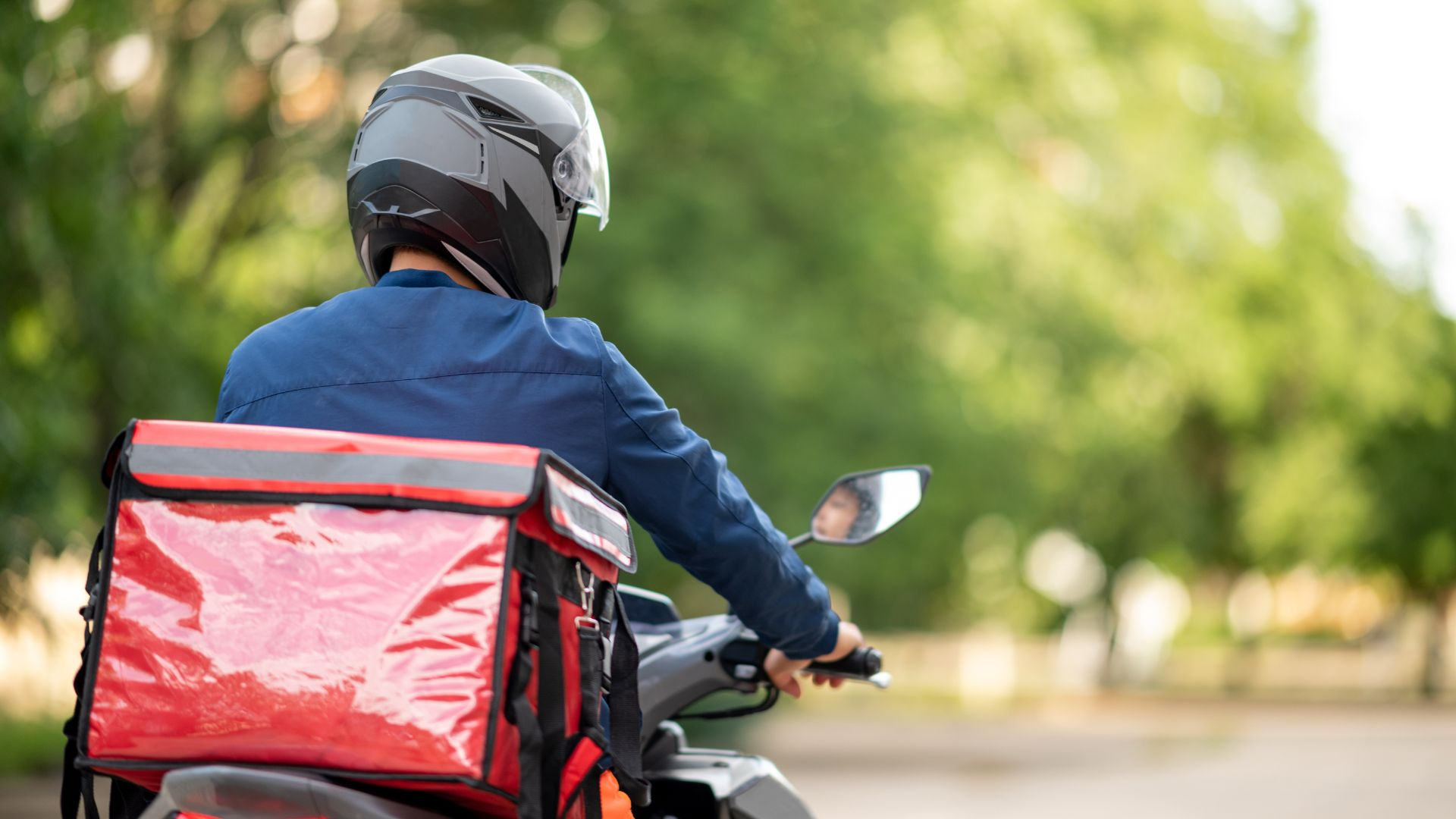 To ensure timely delivery of lilies, placing your order in advance is advisable, considering factors such as processing time, shipping options, and the specific lilies delivery date you have in mind. While the ideal timeframe may vary depending on the online retailer and your location, here are some general guidelines to consider:
Processing time
Take into account the processing time required by the online retailer. This is the time it takes for them to prepare your order for shipment. It can vary from a few hours to a couple of days, depending on the retailer's policies and the volume of orders they receive. Check the retailer's website or contact customer service to determine their processing time.
Shipping options
Consider the shipping options available to you and their estimated delivery times. Shipping options can range from standard ground shipping to expedited or even same-day delivery, depending on the retailer and your location. Review the delivery timeframes provided by the retailer and choose an option that aligns with your desired delivery date.
Special occasions and peak periods
Keep in mind that certain occasions, such as holidays or peak floral demand periods, may experience higher order volumes and potential shipping delays. During these times, placing your order well in advance is advisable to secure timely delivery. Check the retailer's website for notifications or recommendations regarding order placement during busy periods.
Preferred delivery date
If you have a specific date for the lily bouquets delivery, consider placing your order accordingly. To ensure timely delivery, placing your order at least a few days before the desired delivery date is generally recommended. This allows for processing, packaging, and shipping time, ensuring the lilies bouquet reach their destination on time.
Communication with the retailer
If you have any specific delivery requirements or concerns about the timing, it is best to communicate directly with the online retailer. They can guide the estimated delivery timeframe and help you determine the ideal order placement date based on your preferences.
Order lilies with Stemmz for a timely and safe lily delivery today!
Conclusion
In conclusion, ordering lilies online has never been easier. You can have beautiful lilies delivered right to your doorstep by following simple steps. Start by choosing a reliable online platform or website known for its quality products and excellent customer service. Take your time to browse the available options and select the perfect type and color of lilies for your occasion.
Ensure the freshness and quality of the flower bouquets by considering the reputation of the retailer, checking for freshness guarantees, and reading customer reviews. Select a convenient payment option, provide accurate delivery information, and consider placing your order in advance to ensure timely delivery. With these tips, you can enjoy the convenience and beauty to order lilies online.